Coming up with your own duck house plans and building a duck house on your own is easier and more affordable than you might imagine. As long as you provide your ducks with their basic needs like shelter, food, drinking water and a safe space to protect them from predators, they will be happy in their new home. As these innovative plans show how to build a diy duck house with very little money and some can be made with a little time and a few basic DIY skills.
1- Small Duck House
Follow this detailed tutorial for building a small duck house by yellowcottagehomestead that is suitable for use in a suburban backyard.
This duck house is attractive, sturdy, secure and will provide secure shelter, and nesting area for 2-4 ducks. The water system, laying boxes, and manure catchment make this DIY duck house easy to maintain also.
If you have a small flock with no plans for expansion, we recommend this small duck house to be an ideal for your ducks. It will also be quick and easy for you to build in just one day.

2- Lean-To Duck House
Next we have a design that features a large front entryway for the ducks and separate nesting box with a lid so you can access the duck eggs easily. You won't even have to go inside the duck house by myoutdoorplans to gather the eggs.
Ducks are notorious for not using nesting boxes but if the boxes are placed on the floor of the fowl house there is a chance that eggs might be laid in them.
Get these free lean-to design duck house plans that will take you through the building process step by step. A supply list is also included so you won't forget a thing while gathering building materials.

3- Recycled Material Duck House
Use these free plans to learn how to build a duck house by thefrugalchicken that won't cost you anything. Using recycled materials is a way to provide your ducks with a safe house while putting usable materials to work.
Recycling gives old things new life and keeps usable items out of the landfill, so it's a win for ducks, for you, and the environment.
Ducks and other homestead animals are messy so there's no point in spending a lot of money on new building materials if you don't have too. A coat of paint can always make recycled lumber look new and give the duck house a cute appearance.

4- Small Space Duck House
This DIY project creates a duck house that is custom-built to fit into a small backyard space. This YouTube tutorial will show you how to take an awkward, unusable backyard space and transform it into a perfect space for a duck house.
These duck house plans on youtube show you how to build a small structure that will fit perfectly into any odd corner that your landscape may have. All landscapes have certain challenges and this design will enable you to overcome a small space challenge and provide your duck flock with a safe and secure house.
5- A Wooden Pallet Duck House Plans
A wood duck house by thehomesteadingboards is always a sustainable option but this is more sustainable than most as it makes use of reclaimed wooden pallets. Also read pallet chicken coop plans.

6- Simple Duck House Plans
Ducks are easy farm animals to build a house for because they don't need anything fancy. They sleep on the ground, lay their eggs wherever they choose, and like a lot of moisture. The main reason for building them a place to live is for their safety, so a simple structure like this one we have will work just fine.
Use these free duck coop plans by thecapecoop to transform bits and pieces of leftover building materials into a safe and simple duck house for your flock of fowls. Exterior caulking can be applied to seal up gaps and cracks in the wood but since ducks like moisture, sealing up gaps is not essential.

7- Large Duck House Plans
Remember, a small duck house is fine for one or two free-ranging birds but more ducks will need space. Ducks need more space than chickens so allow 4-6 square feet per bird in the duck house like this one by hipchickdigs and 10-25 square feet per bird in the run if they don't range free.

8- Pallet Duck House Plans
Remember, when sourcing materials for your diy duck house by yellowbirchhobbyfarm that though reclaimed materials can be great, they may be impregnated with chemicals. Take care to provide a safe environment for your ducks.

9- Capacious Duck Duck House Plans
When creating your diy duck house by frankiemakes, consider the climate and conditions where you live. Will the ducks range free or spend a lot of time in their run in the winter? Design for your site.

10- Chicken Or Duck House Made From An Old Packing Crate
Again, these chicken or duck house plans by poultrykeeper show that you do not have to spend a fortune to get a great home for your poultry.

11- Duck House Plans With Nesting Area and Run
This is a very unique idea as compared to the ones we discussed above. The roof of this little diy duck house by tyrantfarms is planted with edible herbs and other plants, to create a green roof. This is a great example of how ducks and a duck shelter can become integral parts of your over-all garden design. You may also like to see green roof chicken coop plans.

12- A Frame Duck House Plans With Cedar Shingles
This charming little A-frame coop or duck shelter by diydiva is a picturesque home for your ducks. Cedar is a wood with great properties for use outside and will not decay or rot so is perfect for such uses. You may also like to check out DIY A- Frame Chicken Coop.

13- Pallet Duck House
Here is another great use for wooden pallets – build a freewood duck house by homegrown with them.
Three old wooden pallets are all you need to build a safe and secure house for your duck to live in. The pallets are the right size for use with these free duck house plans and that helps reduce the amount of time and effort needed for this DIY project. Wooden pallets can be obtained free or very cheap and this will keep the building costs down for this DIY project.
Recycling old wooden pallets also reduces the cost of the DIY project down to almost nothing. A little flooring and roofing material is all that you will need to complete this functional pallet duck house.

14- A High Rise Home For Ducks/ Bird House
This house for your ducks by myoutdoorplans can be created using quality timber and a basic knowledge of DIY. You do not need to be an expert to make this home for wild ducks or other wild birds.

15- Floating Duck House
A floating duck house by goodshomedesign is simple to construct and can become an attractive part of a backyard water feature.
Ducks and water go together so why not combine the duck house and a water feature? These free duck house plans we are going to show you will guide you through the building process and the results will be spectacular.
The pitched roof design makes this look a lot like a dog house, so it may surprise people to see the house floating and a duck coming out of the doorway. This duck house plan is one of our best designs.
This floating duck house can be accessorized and painted to create a unique focal point for your backyard water feature.

16- Octagon Duck House
This unique octagon shaped duck house by backyardchickens is constructed from recycled wooden pallets to help keep the building costs low. The attractive shape is ideal for building in a suburban setting and it will keep your ducks (and chickens) safe from predators.
The total cost for this DIY project is under $100 and it could be a lot less as compared to the ones we discussed earlier. if you have some roofing material on hand. Many places giveaway free wooden pallets that have a couple of broken boards and those broken boards are easy to replace and the smaller pieces can be used in another DIY project.
The octagon shape is attractive, easy to build, and will be inexpensive when recycling wooden pallets.

17- Another Duck House Plan With Reclaimed Wood
Of all the duck house like this one by needlesandnailsblog the best are those that utilize scrap material. This idea also used wood pallet and other reclaimed wood to make a sturdy, safe house for ducks.

18- Large Duck House Plans
These duck house plans by howtospecialist will provide you with an easy to follow tutorial for building a large duck house that can accommodate several ducks comfortably.
If you have a large flock or looking to expand your flock of fowls these plans may be just what you need. This sturdy structure will last for years and provide your flock with dry shelter and safety from predators.
The wood structure can be built in one day and leftover building materials can be used to reduce the construction expense.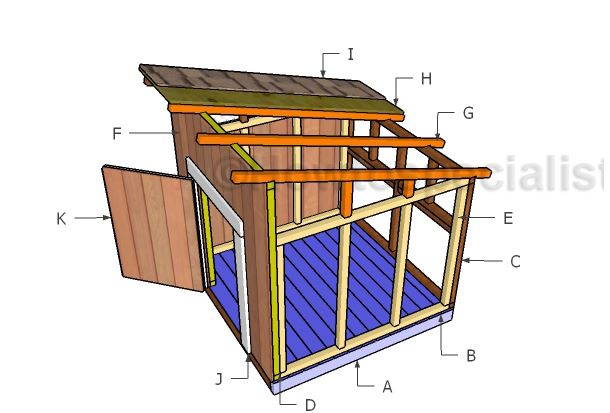 19- Recycled Duck House Plans
An unused cold frame and wooden workbench were recycled and given a new life as a small shelter for ducks. This idea may spark an idea for how you can recycle unused items into a functional and attractive house for your flock.
These free duck house plans by bepasgarden will inspire you and provide a detailed tutorial so you can take recycled parts from different items and create a cohesive-looking structure for your flock. This good-looking structure is great for use in a suburban backyard or anywhere else that an attractive fowl house is needed.

20- DIY Duck House with Deck and Pool
Ducks need shelter and water and these free duck house plans will show you how to build a house that ducks will never want to leave.
This duck house on youtube is a simple design with a pitched roof and two doors that open the backside up for easy coop cleaning. The front of the structure has a deck with a pool in the center and a ramp. Ducks can waddle in and out of the house, go for a swim, get their daily exercise, and stay warm with an interior heat lamp in this well-designed fowl house. A bottom drain in the pool makes changing the pool water quick and easy so the ducks will always have access to clean water.
The interior of the structure is heated and would be ideal for building in cold climates so chicks and adults will stay warm.
21- Ultimate Duck House
If your homestead is in an area that has a lot of wildlife you will need a predator-proof fowl house. These free duck house plans on youtube will show you how to build a safe house for your flock that is predator-proof.
This YouTube tutorial will guide you through the step by step building process that will prevent predators from gaining access to the inside of the duck house and killing the flock.
Attractive design anrge size will look good in the homestead landscape and provide plenty of space for a growing flock. Keep your flock safe so they will thrive and prd laovide plenty of eggs and meat for an off-grid homestead.
22- Cheap and Rustic Duck House Plans
Remember, when coming up with duck house plans like this one by homegrownorg that you should be open to materials you can garner for free – one man's trash is another man's treasure.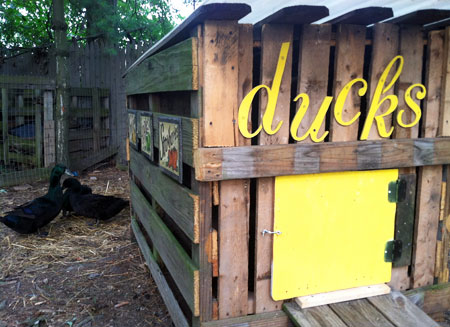 23- Chicken Coop Duck House
In the last idea we will Learn how to convert an unused chicken coop into a whimsical duck house by modernfarmer with this free tutorial. Chicken coops are typically taller than what ducks need, so the roof can be lowered with the idea provided in this building plan. Also, ducks need a little more square footage on the inside than chickens need, plus ducks love water and will put a water feature to good use.
A large entry door and ramp will make it easy for waddling ducks to get in and out of this cute fowl house.
These detailed instructions will address all the different needs between chickens and ducks so converting a chicken coop into a duck house will be a success. Add a coat of colorful paint along with painted flowers and clouds will transform this functional design into a focal point in your backyard.

Benefits Of A Duck House
Safety For The Flock: A duck house will give the ducks a safe place to nest and sleep. When ducks feel safe from predators they will lay more eggs. The safety also helps ensure that more of the ducklings you are raising will survive to adulthood.
Customization: A duck house can be built to fit any size budget or flock.
Helps protect surrounding vegetation: Ducks can be very destructive on vegetation and a duck house with an enclosed run will help protect the plants you don't want them to destroy.
Easy separation; Sometimes ducks need to be separated and a duck house will make separating them easier.
Drawbacks Of A Duck House
Ducks can fly: Unless the entire area – the duck house and run, are covered, ducks can fly over the fencing and escape. Their wings will need to be clipped frequently to prevent them from flying.
Must be small: A duck house will need to be moved occasionally to provide fresh grass for the ducks. The house must be small and lightweight so it's easy to move.
Summing Up
Ducks have certain requirements to live just like other backyard animals such as a pond, a place to lay eggs and to stay safe from predators. Your ducks will keep happy and lay more eggs when they have a shelter to live. You can choose any of these duck house plans we discussed above that are suitable to your ducks and you find easy to build.
Based upon the frequently asked questions we have prepared a questionnaire below.
FAQ's
Are duck houses expensive to build?
Not at all. You can use any type of building material you have on hand to construct a DIY shelter that will keep your flock protected from predators and the elements.
Are duck houses ugly?
You can build them with a very attractive design to beautify your property and increase its value.
Are ducks messy?
Yes, they are. Ducks are in the poultry family and are by nature messy. Providing them with their own house and run will keep the mess to a minimum.