You have already learned everything you need to know about building a chicken coop, but it never hurts to look into chicken tractor plans. A chicken tractor is a portable version of a chicken coop. Your mobile chicken coop features all the amenities of a regular coop to keep your birds safe and comfortable.
There are several reasons why you should look into the different chicken tractor plans. Moving chicken coop from one place to another allows chickens to eat fresh grass, weeds, keeping your garden pests free or you may be looking to rearrange your yard or maintain the ground under the coop. If you're interested in building a chicken coop that's easy to move, here we have collected 43  free chicken coop plans to consider for your project.
1- Chicken Tractor Coop Design Made With Scrap Lumber 
Here are brief steps to build this chicken tractor coop.
Take some parts of the lumber and make a basic coop structure.
Use luan for the inner side, while outer side needs to be fixed with proper old cabinet doors.
Take plywood for the run and coat it with any color you want.
Attach cabinet door to the run so that the chickens can move anytime. See the step by step guide at Backyard Chickens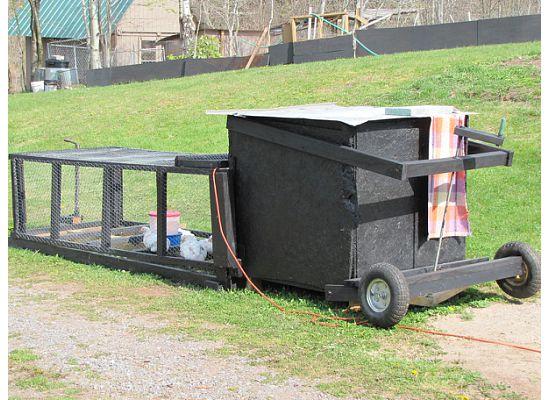 2- Surprisingwoman's Chicken Tractor Plans
Truly this is one of the simplest chicken tractor coop plan by backyardchickens we found on the internet because it requires you to find some old cabinets at home. The smaller cabinet's can be used as nesting boxes, while others can be the main living room. Make sure, while cutting you leave a good space for ventilation.
For this chicken tractor plan, use metal legs, while you need to form netting edges all over so that predators can be kept away. Attach the ramp to the nesting area and open it in the netted space so that the chickens are free to move. Use any parts of the old luggage bags or the lawn mower to make the wheels. Take help from some expert or anyone who knows how to assemble the various parts together.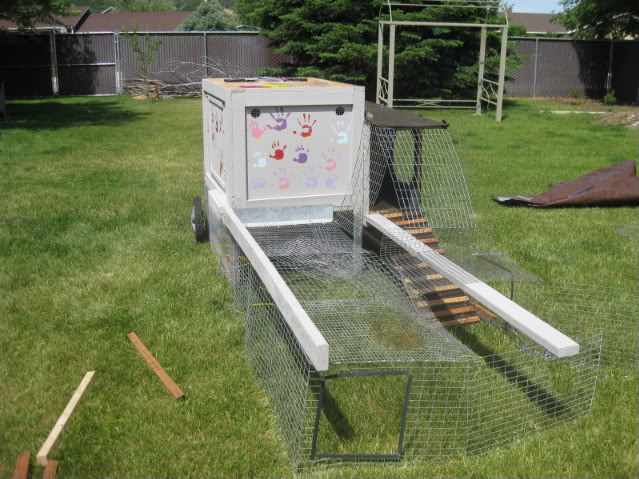 3- Hoop Chicken Tractor Plans
Find chicken tractor plans by fresheggsdaily for a hoop coop. It's made of boards, PVC arches, welded wire and wood screws. You're also going to build a wooden door that's big enough for you to walk through. You can cover the back end with tarp to protect your chickens and create a cute wagon-style tractor. You may also like to check out a frame chicken coop plans for keeping small flock of chickens.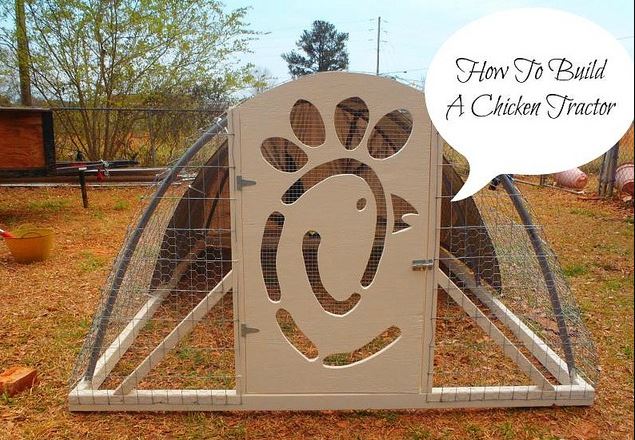 4- Kerr Center Chicken Tractor Plans
This movable chicken coop by kerrcenter is modeled after the Kerr Center Chicken Tractor. It's made of lumber, plywood, corrugated roofing, shade cloth and other materials. Now, this chicken tractor is too heavy to move on your own, which is why the instructions also call for a ball hitch, cable and eye bolts. You're going to use these materials to pull the tractor with an off-road utility vehicle.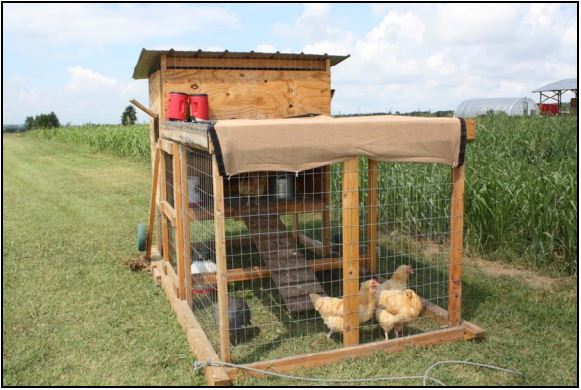 5- From Scrap To Chicken Tractor
You would need:
Lumber pieces
Wire fencing
Door
Fence staples
Here are step by step instructions to build this chicken tractor coop.
Use wood to make the base, and the top first.
Add wood inside the structure to provide it enough support.
Attach the door on any side you feel feasible.
Cover the entire area with wiring sheets.
You are done for the time being, enjoy the simplest kind of mobile coop design by

backyardchickens

6- Palace Chicken Tractor Plans
Build an adorable portable chicken coop with these plans by backyardchickens we are sharing with you. This chicken palace is complete with a ramp, roosts, nesting boxes, feeders, water dispensers and doors. It also features double-pane screened windows for ventilation and protection. You can decorate the palace with a warm color scheme, flowers under the windows and a cute wooden sign.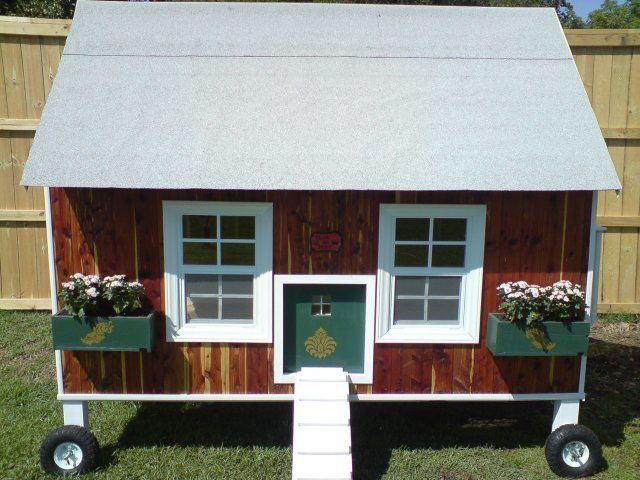 7- Lightweight Chicken Tractor Plans
You don't want a chicken tractor that's too heavy to move on your own. With these plans, you're building a lightweight tractor by backyardchickens out of materials such as lumber, plywood, PVC conduit and wide mesh. The materials are durable but easy to lift when you need to move the coop. This is a hoop coop with a roosting and nesting area, as well as access to the eggs.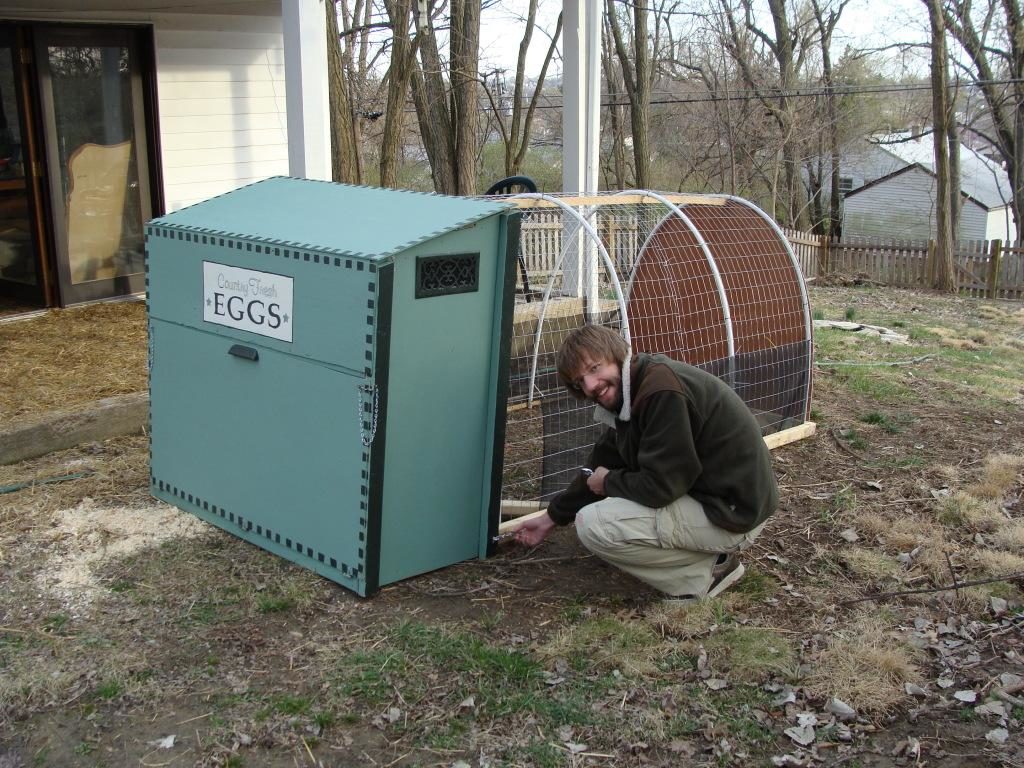 8- Simple Chicken Tractor Plans
Use these plans to build a mobile chicken coop by thefrugalchicken that's simple but effective. You can use pallet wood, plywood, boards, hardware cloth and corrugated sheet metal. Another idea is to cover it with tarp during the winter. The tractor is durable and comfortable, but easy to move when necessary. You may also like to check out pallet chicken coop plans.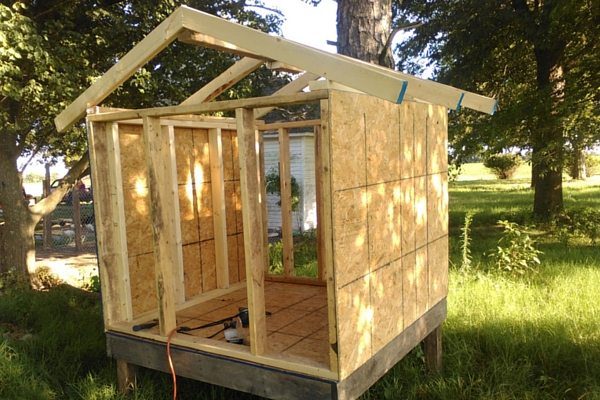 9- PVC Chicken Tractor Plans
In this mobile chicken coop plan by grit we are going to learn how to build a light-weight chicken tractor out of PVC pipe and plastic netting.
Keep your chickens feeding on fresh grass and bugs by building a DIY chicken tractor that enables you to move your chicken flock as needed. Free-range chickens are healthy and cost less to maintain and a mobile chicken tractor like this one is easy to build.
Add a tarp to one end of the chicken tractor to provide shade for your precious birds during sunny summer days.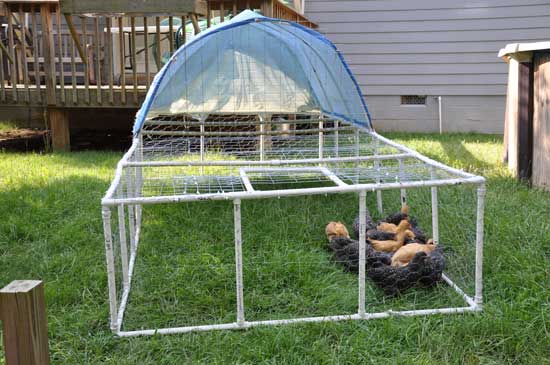 10- Movable Poultry Pen
Looking for a chicken pen plan? You can find a various chicken coop plans PDF online, which can teach you, in detail regarding the making of coop at home.
Here is chicken tractor coop plan in pdf by pvcplans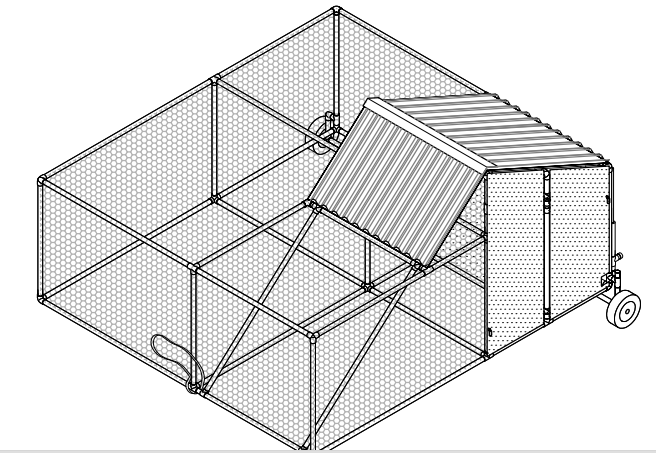 11- Basic Chicken Tractor Plans
If you're looking for something more basic, you may enjoy these chicken tractor plans by hobbyfarms. It doesn't include a nesting box or roosts because it's mainly for free-range chickens. However, it does include a door with a latch, covered area for shade and handles near the bottom. It's also secure with a wooden frame and hardware cloth. The tractor is light enough to transport with an ATV, lawn tractor or by hand.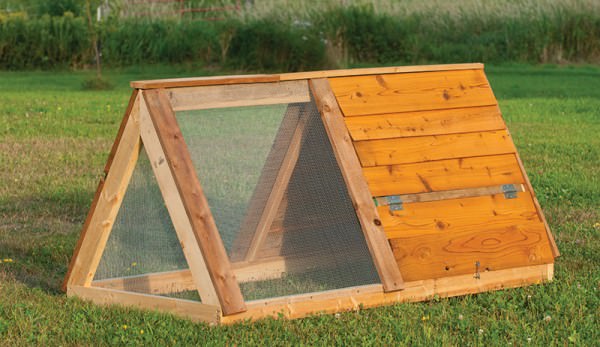 12- Fancy Chicken Tractor With Wheels
You might be an artistic person, and thinking of having an attractive chicken coop. However, your basic structure and idea would remain the same. You can add as many accessories or colors you want, and even may with the cuttings to make it more desirable.This plan has chicken coop drawing and construction detail at braingarage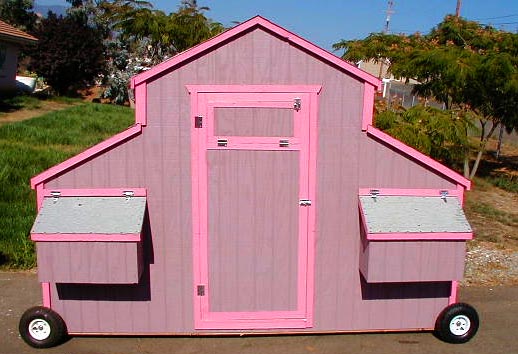 13-
 Cheerful Mobile Chicken Coop
Without any question, lumber is the best material that can be used to form the foundation of the coop. The idea here is to have access to nesting boxes like this one by backyardchickens from outside, so you can add doors (window nest boxes). Simply attach the lumber structure to old cart tires or even bike tires, and paint it with some happening colors. With the entrance door, you can add the rap so that the chickens can easily manage to move in and out.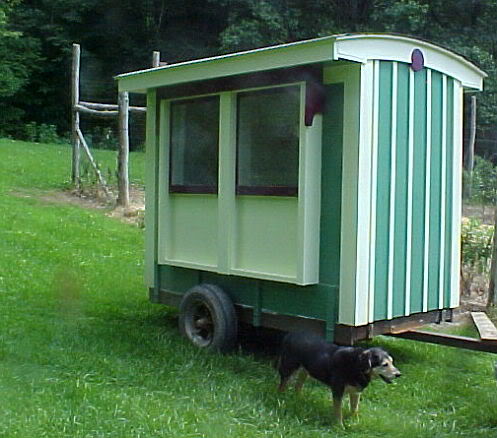 14- Garden House Coop Plan
You can be as creative as you want to when it is about designing or making a chicken coop by backyardchickens All you need is time and patience – do not worry about the material because they cost something less than $100. Use tin roofing, following that you can have a base structure with door and windows. Attach a surface so that it looks like a house porch. Support the entire structure with big tires, and paint it with beautiful colors. Add some pictures and flowers to make it breathtaking.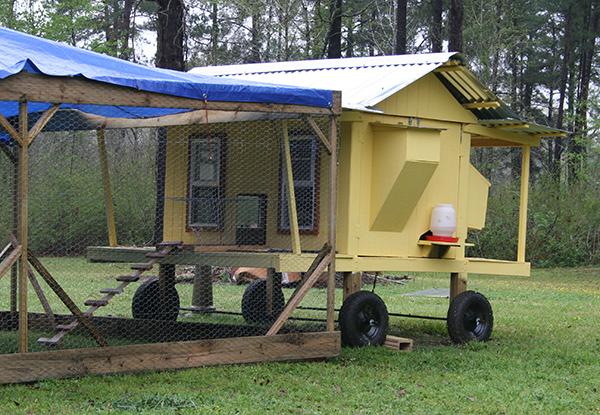 15- A-frame Coop Style
As the name suggests, this kind of coop design by au.lifestyle.yahoo.com would not be easily made at home, as the structure requires many technical details. Forming A-frame one over and another is not simple, yet nothing is impossible as well.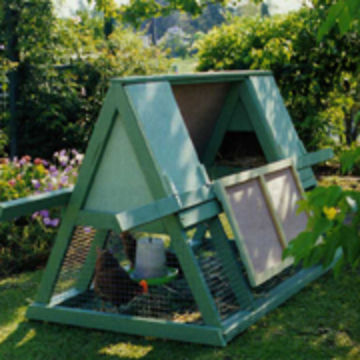 16- PVC Chicken Tractor Coop Plans
Looking for a super easy and attractive coop design? Here is a PVC pipe chicken tractor that can easily be adjusted in the smaller gardens and yards. You can use the same plan to make bigger ones as well.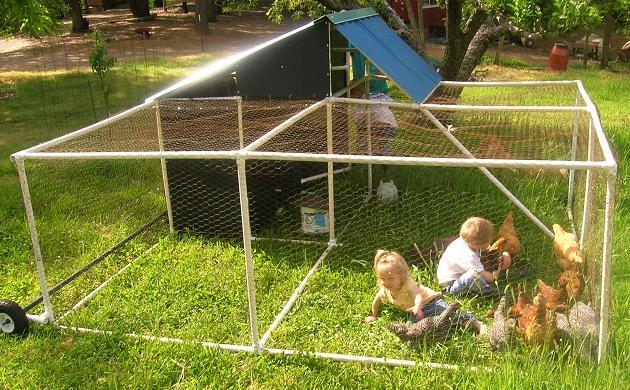 17- DIY Chicken Tractor
If you love a good hands-on project, you can build your own portable chicken coop from scratch such as this one by backyardpoultry we are discussing about. You're going to use boards, panels, chicken wire and other materials to build your tractor. Decorate the tractor by painting it or adding a vintage sign and flowers under the windows.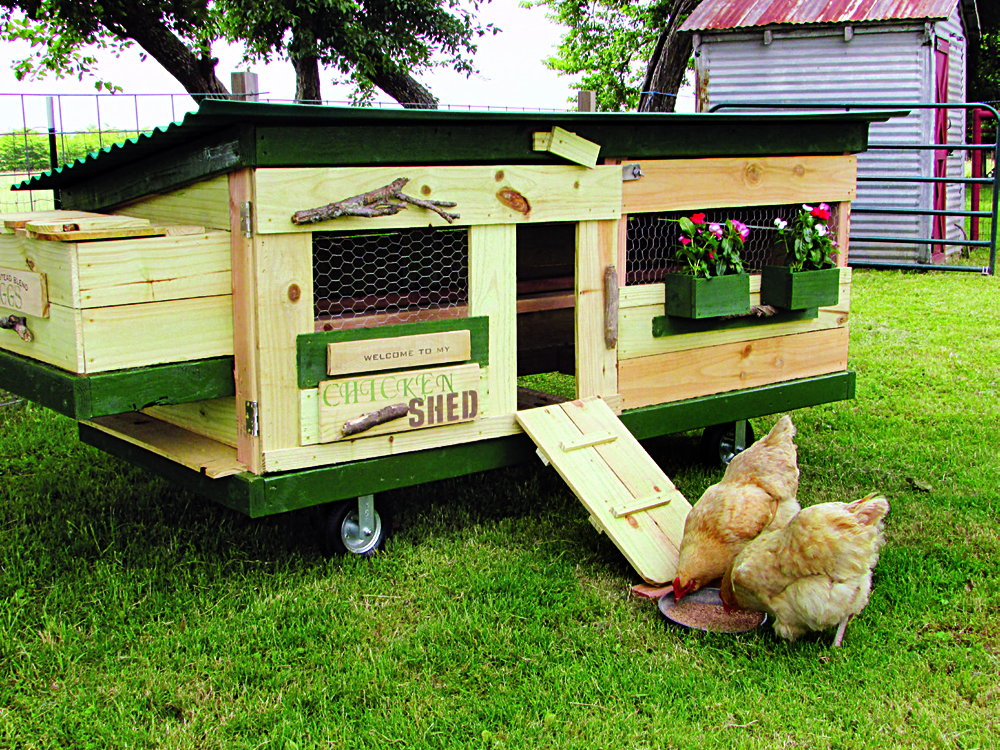 18- Large Chicken Tractor Plans
This chicken tractor plan by instructables that we are going to discuss is big enough to hold about 14 chickens, so you don't have to worry about not having enough space for your birds. The supplies include boards, exterior plywood and hardware cloth. The tractor features a nesting box, watering system and drop-down door. It also features a secure chicken run area underneath.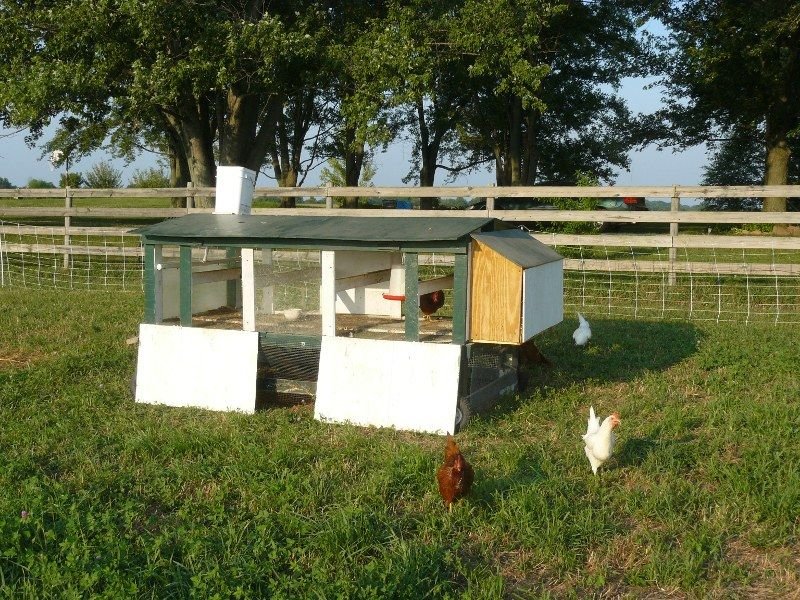 19- Mesh Chicken Tractor Plans
For this project, you're building a chicken coop by simplesavings out of plastic mesh and a PVC polypipe frame. This way, your chickens are safe from predators, but they also have enough ventilation. It features roosts, nesting boxes and doors, and you're going to cover one end for shade and security.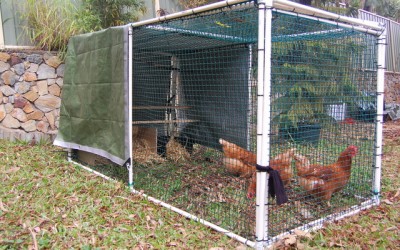 20- Larger Chicken Tractor
You can find free chicken coop plans by grit to build a tractor that's large but light enough to carry. Another option is to add recycled wheels to the bottom for easier movement. The materials include boards, poultry wire and galvanized conduit. You can also cover the tractor with tarp for weather protection.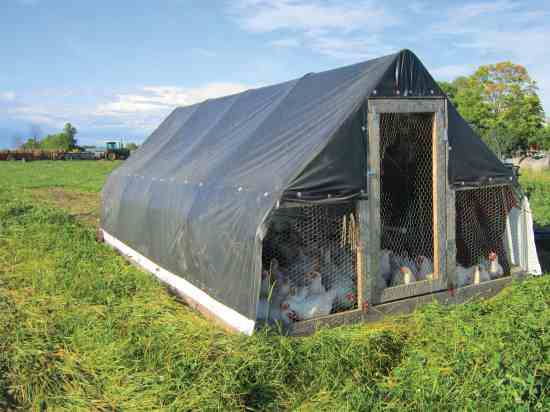 21- ChickShaw Chicken Tractor Plans
This portable chicken coop by abundantpermaculture is known as a ChickShaw Chicken Tractor, and it's based off the rickshaw design. It's made of materials such as boards, wire mesh, electric poultry net and PVC roof panel. The features include a handle for pulling, wheels, nesting boxes, perches and a built-in ramp on the door.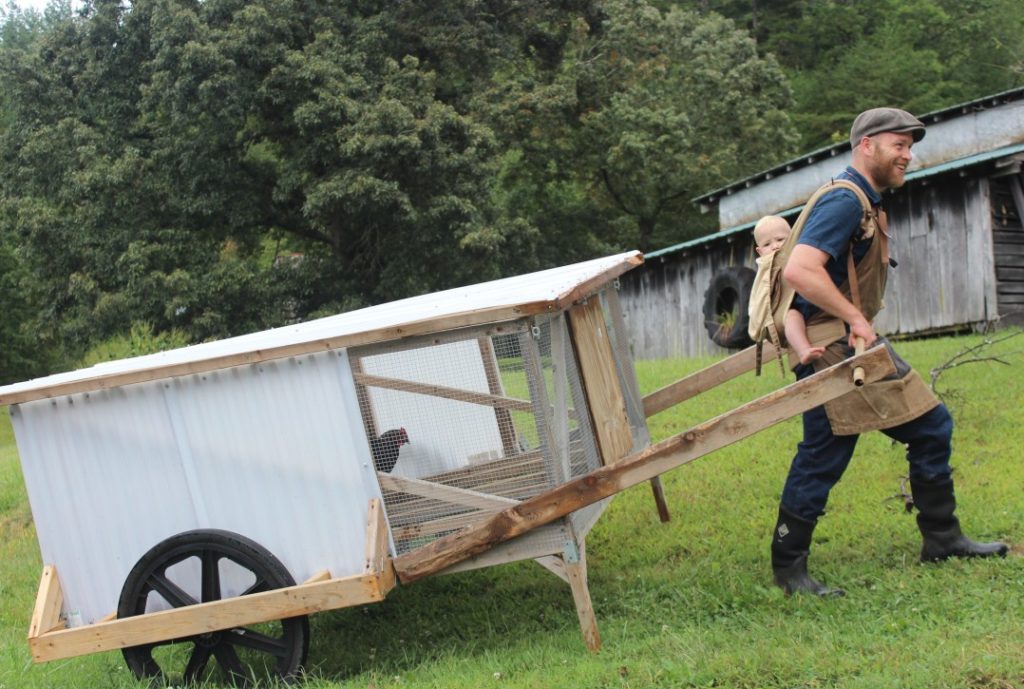 22- Old Pallet Chicken Tractor
You can save money by using old pallets to build your chicken tractor by instructables. The materials also include chicken wire and 1.25-inch staples, as well as tarp to protect your chickens. You can build a lightweight tractor to carry with a peer, but wheels make it easier to move the tractor on your own.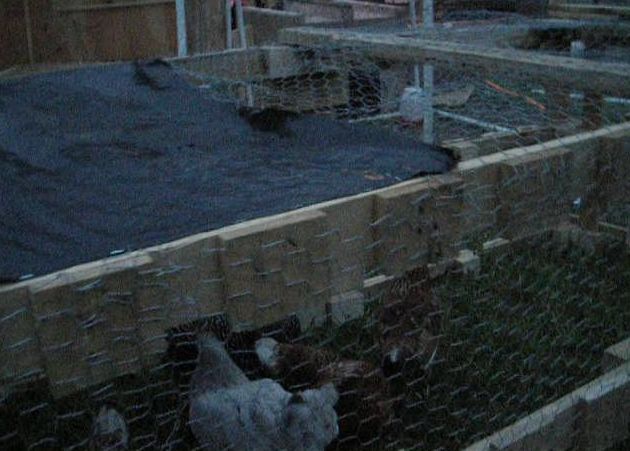 23- Brooder Chicken Tractor Plans
You can build this movable chicken coop by backyardchickens out of recycled items such as a large shipping crate, doggie door and wheels from a wheelbarrow. It also needs boards and chicken wire for protection. In addition to the usual amenities, there should be enough room for comfort and a hanging lamp. You may also like to check out recycled chicken coop plans.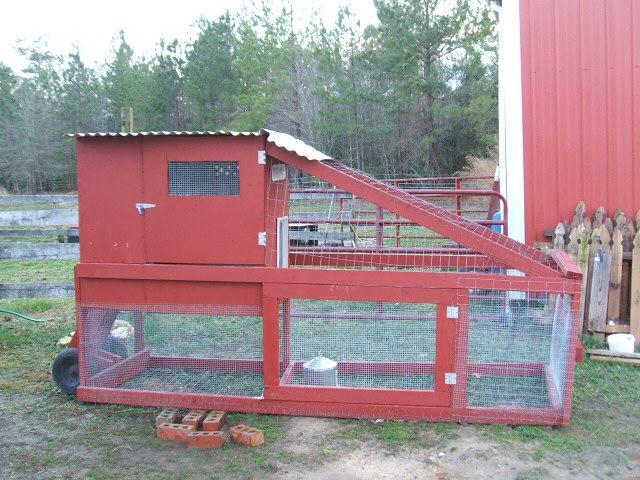 24- Homemade Chicken Tractor
This homemade chicken tractor by weedemandreap is made of boards and thick gauge wire, and it features a handle and wheels for easy movement. The door makes it easy to access your chickens, and the plywood cover protects them from the weather.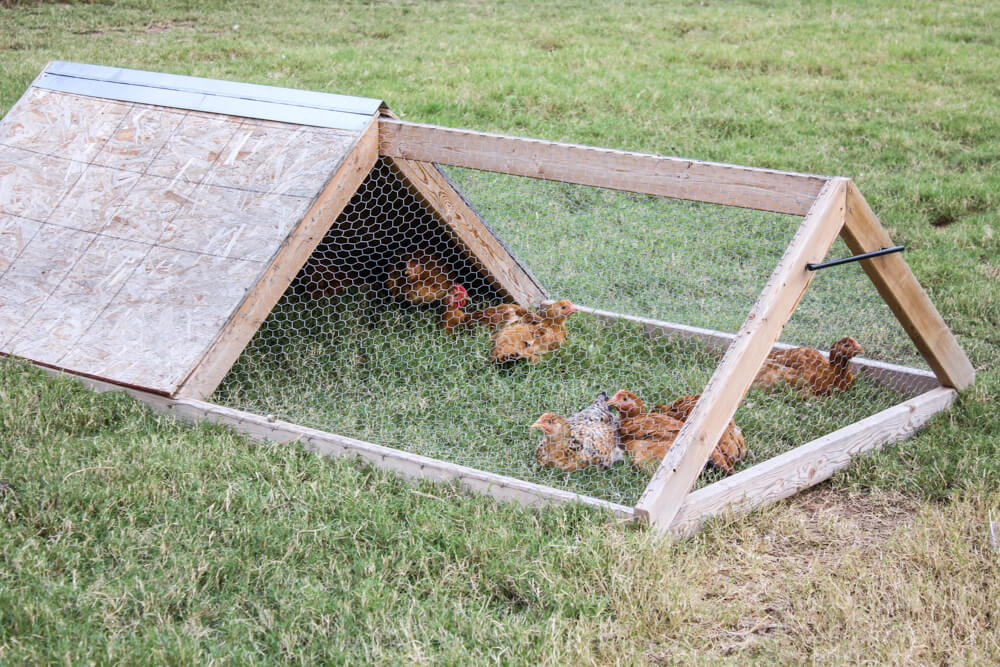 25- Chook Dome Chicken Tractor Plans
If you're looking for unique chicken tractor plans by milkwood look no further than this dome-shaped coop. You're going to build this chook dome out of pipes and chicken wire for durability. Now, this tractor uses a geodesic design of long, curved struts in a crisscross pattern for easy carrying.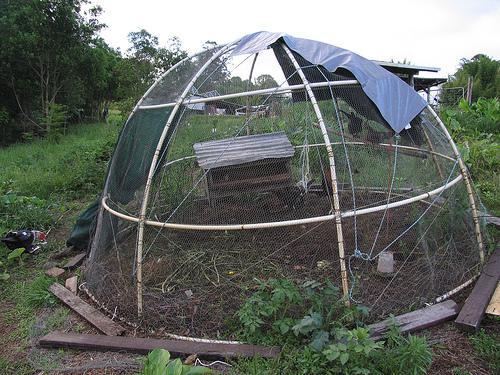 26- Master Chicken Tractor Coop
If you are thinking about how to build a chicken tractor such as this one by backyardchickens that is inexpensive you can simply get away with this great chicken coop within $150 – you need grade plywood for exterior, and hardware cloth. You need lots of screws and some patience to fix all the pieces together, and install feeders and water systems.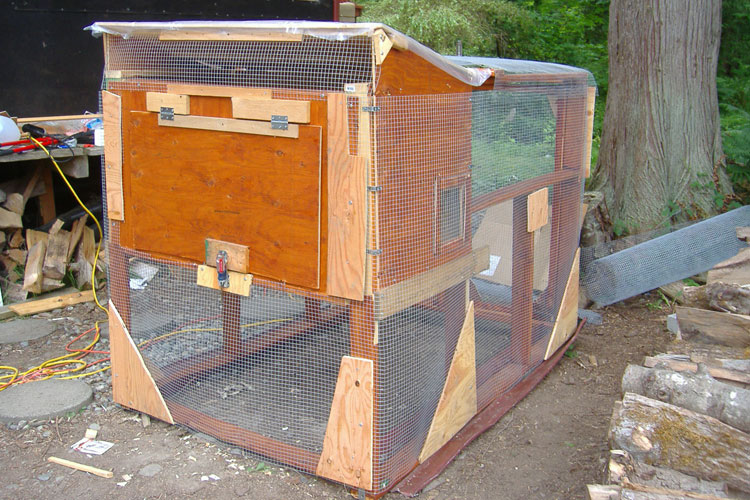 27- Wooden Chicken Tractor Plans
These free chicken tractor plans by myoutdoorplans combine a portable chicken coop and a chicken run so there is always a fresh supply of organic food under the chicken's feet.
Wherever this chicken tractor is parked will home for your precious birds. Feed and shelter the chickens for free with this easy to construct wooden chicken tractor.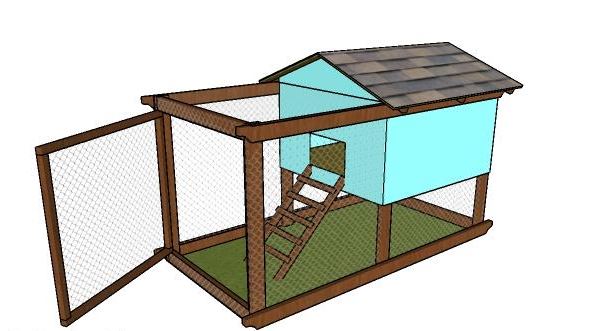 28- A-Frame Chicken Tractor
Cute design that will add character to your landscape while providing your chickens with fresh food.
This A-frame design has nesting boxes in each end so your feathered girls can lay eggs anytime they want too, plus the chicken wire enclosure keeps predators out of the chicken tractor. This is an easy build with detailed plans that show you how to build a chicken tractor like this one by instructables using leftover lumber and paint.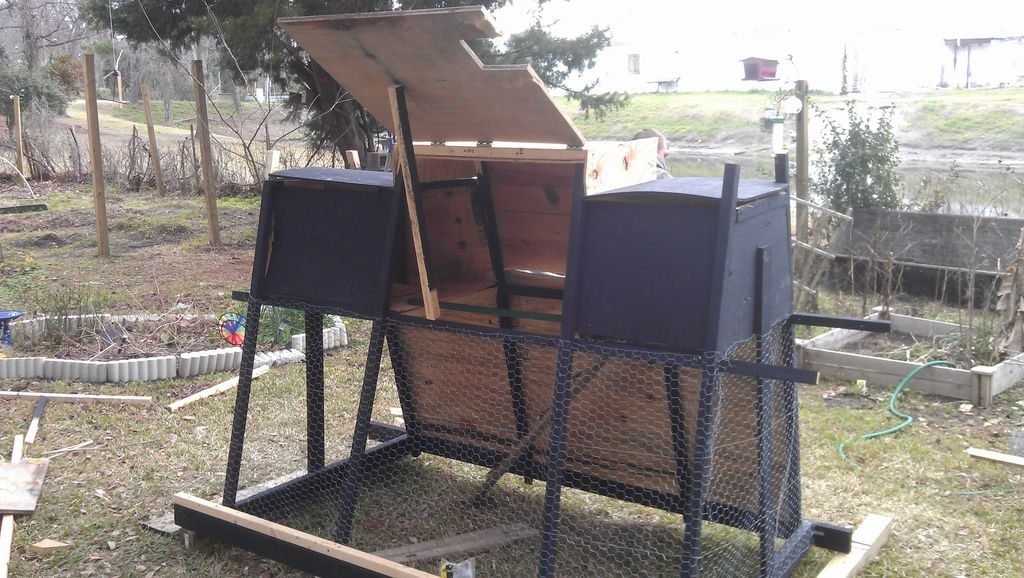 29- Enclosed A-Frame Chicken Tractor
This enclosed A-frame chicken tractor provides plenty of room for your precious birds to live comfortably all the time. The nesting boxes are easy to access for egg gathering and cleaning, and the bottom is predator proof and provides plenty of ground space for the chickens to feed.
These free plans show you how to build a chicken coop on wheels by backyardchickens that is easy to move and will keep your flock safe.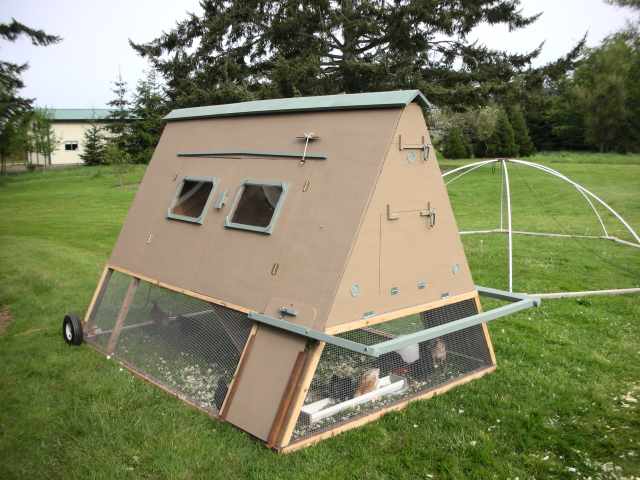 30- Chicken House on Wheels
This attractive design will be an asset to your backyard landscape and should be welcomed in any neighborhood that permits chickens.
These free detailed plans show you how to build a mobile chicken house by backyardchickens that can hold several hens and keep them safe from predators. It's constructed from wood but the large wheels on one end make the tractor easy to pull and move around the yard so hens always have a fresh supply of grass.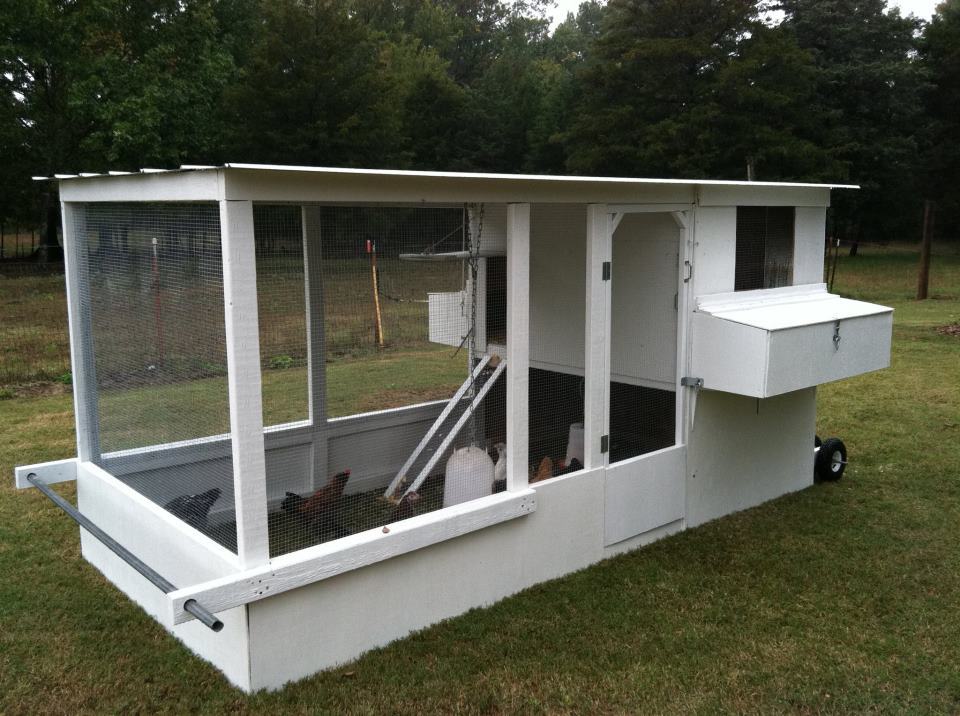 31- Mobile Chicken Tractor Plans
Having the ability to move your flock of hens around to fresh grazing land in safety is what a mobile chicken tractor such as this one by backyardchickens will provide.
The flock can be moved all at the same time without chasing them around the yard when their home is on wheels. This chicken tractor is an A-frame design and is inexpensive to build. The design has nesting boxes, partial roof so protection from the elements. and is secured with chicken wire to keep predators away from your precious birds.
This mobile chicken coop will keep your hens safe and well-fed for years.
32- Covered Chicken Tractor Plans
Cattle panels, 2×4's, and a tarp are about all you will need to create this covered chicken tractor. Ideal to keep your flock safe, sheltered, and eating organically year-round.
These chicken tractor plans we are talking about are easy to follow and allow you to construct this portable structure in just a few hours. The bottom-less design provides the hens with complete access to the ground so they can use their naturally scratching ability to dig bugs and grubs out of the soil for a protein-rich meal.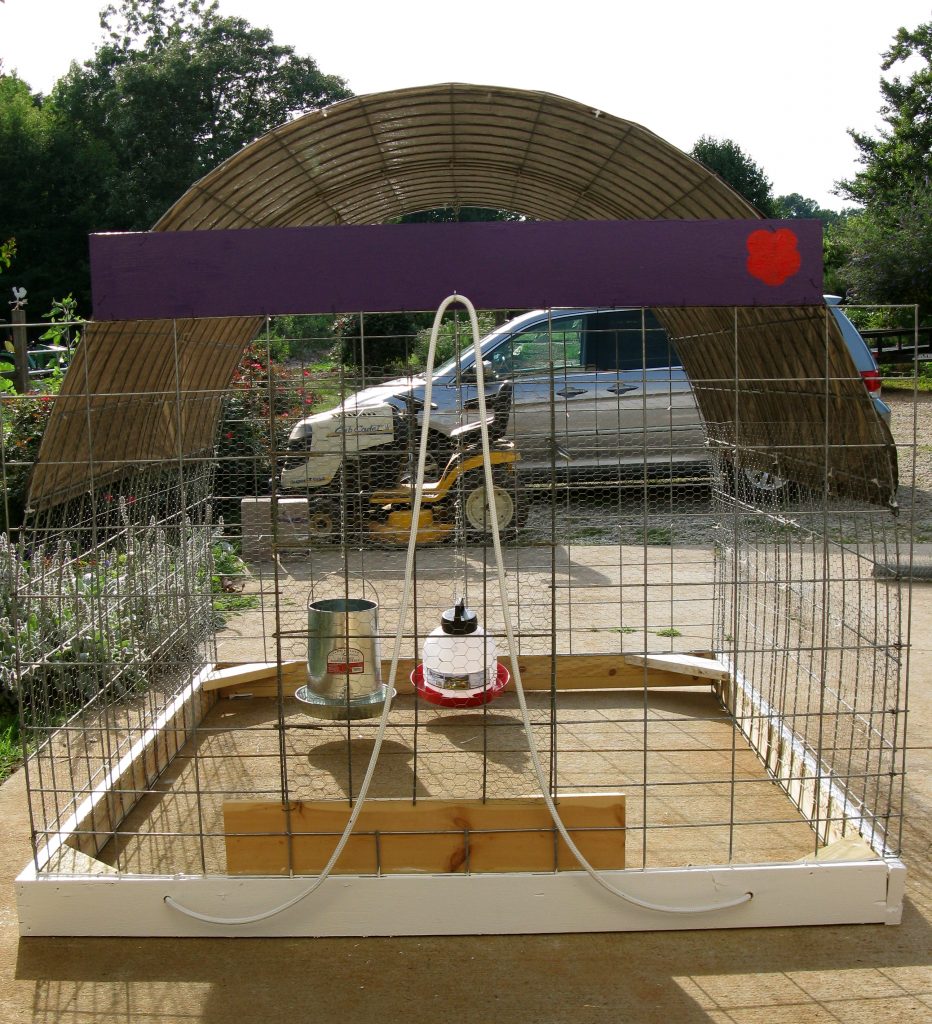 33- Small A-Frame Chicken Tractor
If your flock of hens is small then a small A-frame chicken tractor by ana-white will help feed and house them in stylish comfort.
We found this design an ideal one for a suburban flock of backyard chickens, this small A-frame mobile chicken coop is easy to build. These free chicken tractor plans are simple to follow and the cost is minimal. Ideal size for 2-4 laying hens, this small A-frame has fold-down doors that allow for easy access to the inside of the tractor.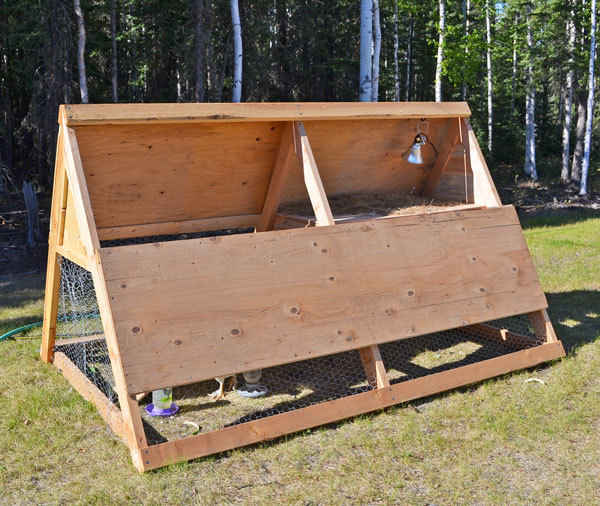 34- Money Making Chicken Tractor 
If you are looking for a safe environment to raise a large flock of money-making chickens we recommend these chicken tractor plans to you.
Lumber, chain link fencing, metal poles, a tarp, and some hardware can be put together in a way that will provide safe housing for a large number of chickens. The housing construction is light-weight enough to be mobile so the flock can be moved as needed.
Construct several of these mobile chicken tractors by farmmarketingsolutions so you can create a money-making chicken farm that is cheap to maintain. The hens will feast on fresh grass and bugs as they grow to maturity. The fresh organic food the hens are raised on will enable you to sell them for top dollar at the market.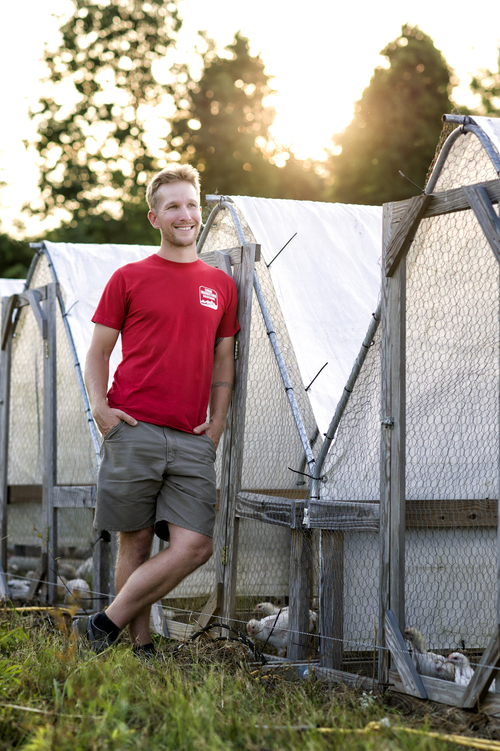 35- Reclaimed Lumber Chicken Tractor Plans
Use reclaimed lumber and these free chicken tractor plans by backyardchickens to construct a safe environment for your precious birds. The wheels on the bottom make the structure easy to move and the enclosed top laying boxes provide security and safety for the hens.
Reclaim lumber from wooden pallets, leftover lumber from other construction projects, or other sources. Lumber does not have to be new, it just has to be sturdy. Reclaimed lumber will also help keep usable items out of the landfill and make the DIY project cheaper to build.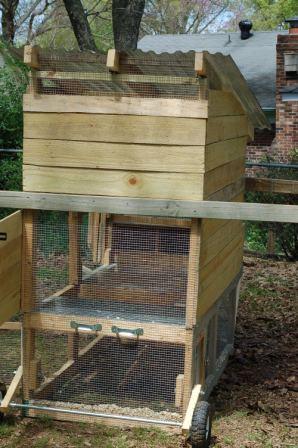 36- Bantam House Chicken Tractor
Here we have an adorable mobile chicken coop by backyardchickens that looks like a playhouse for a little girl. Pink paint, heart cut-outs, and a shingled roof make this DIY project a bantam house instead of a mere chicken tractor.
But don't let the prettiness fool you. This bantam house has 4 wheels and is completely mobile.
The enclosed interior is large enough to comfortably house 4 hens and nesting boxes. The bantam house is safe from predators and will make an attractive addition to your backyard chicken farm.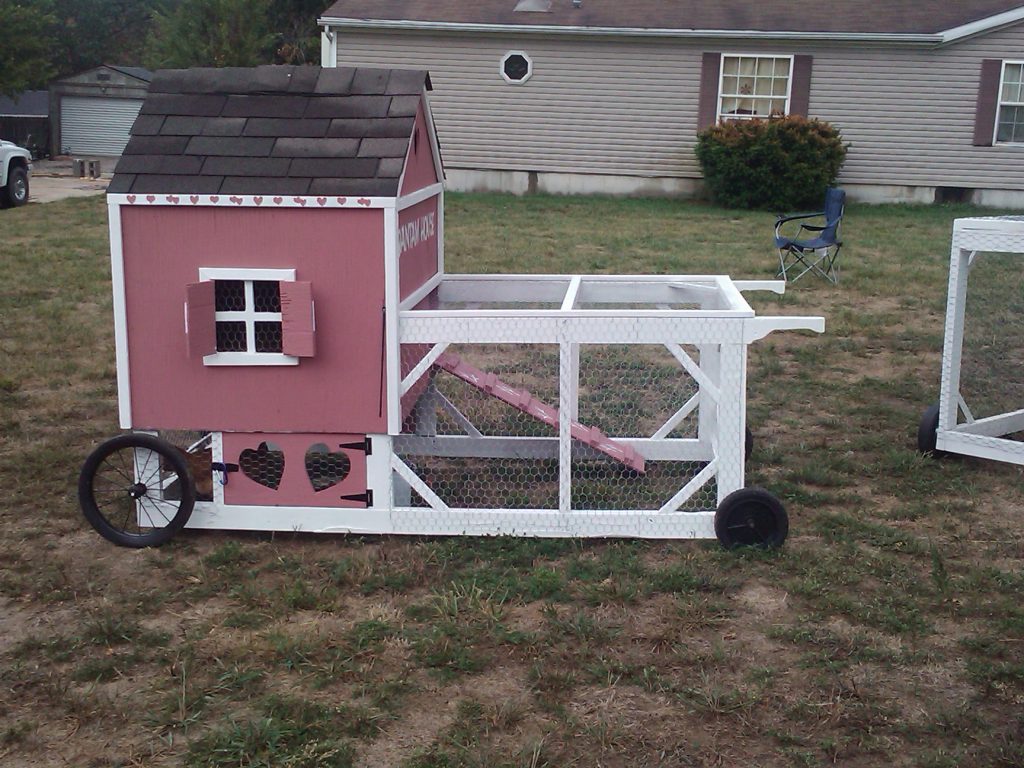 37- Backyard Chicken Tractor Plans
Use these free chicken tractor plans to create a safe and mobile home for your small backyard chicken flock.
Large enough to house 4 hens and small enough for an urban backyard. Keep your precious birds safe and feeding on fresh grass with this easy to build mobile chicken coop by fix.
Ideas and plans for creating DIY nesting boxes are also included for your convenience. Having the right size nesting box is essential for good egg production.
A chicken run is another essential component of a well thought out chicken tractor and this design ensures the hens will be able to get plenty of exercise in the run.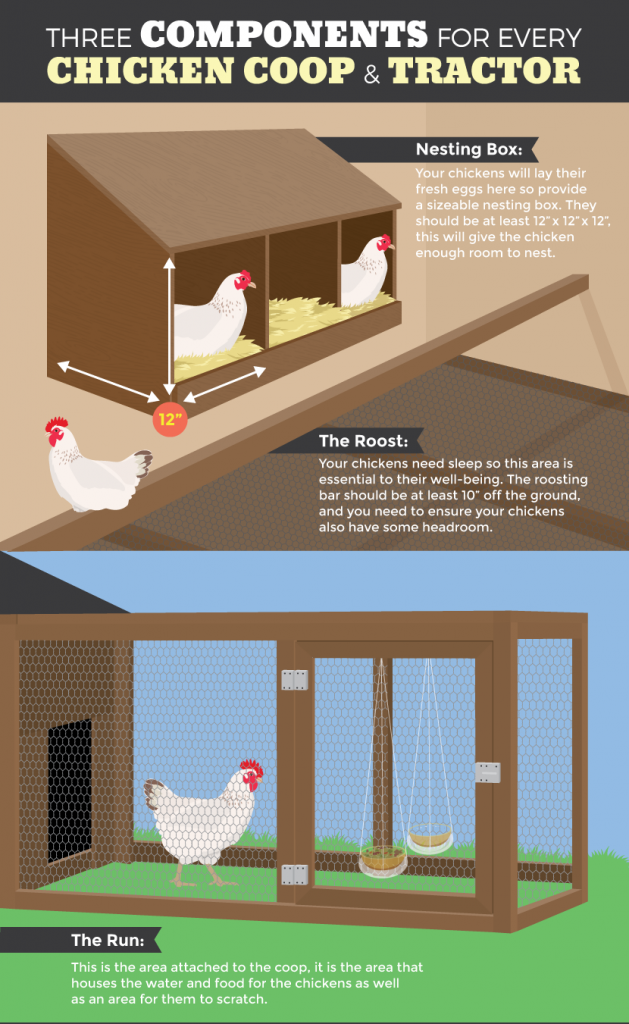 38- Hoop House Style Chicken Tractor
This chicken tractor has a different shape than most we have discusse above and is built in the shape of a hoop house. The flat bottom and round top make the chicken tractor spacious and lightweight so it's comfortable for the hens while remaining easy to move.
These free PVC chicken tractor plans by instructables make building this portable hen house easy and affordable. Detailed pictorial instructions are easy to follow and the size can be adapted to meet the needs of your flock.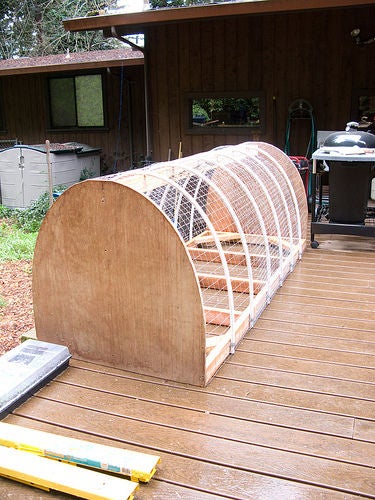 39- Hoop Chicken Coop
This is a fun name for seriously efficient chicken tractor by backyardchickens. Easy to build, roomy, and easy to move. An attached rope makes moving the hoop coop each morning an easy task. Mobile chicken coops like this one provide the hens with plenty of fresh organic greens and bugs every day so they remain healthy.
This is ideal when raising chickens for both meat and eggs. The fresh organic food the hens eat make their eggs and meat more nutrient-rich and un-tainted from chemicals. Help promote good chicken health as well as your own health by building a DIY chicken tractor like this hoop coop.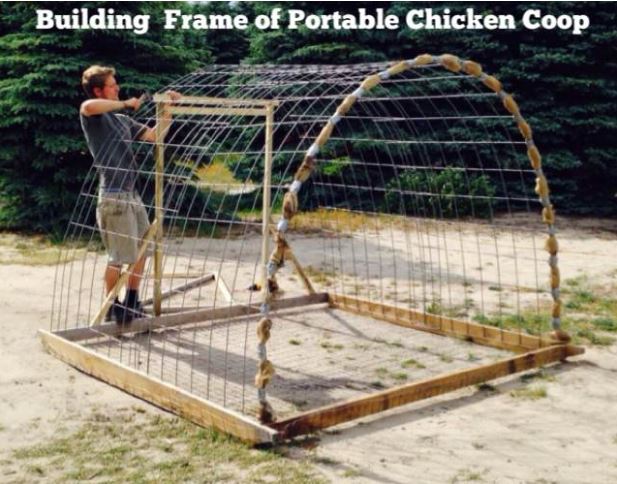 40- Hen House Tractor
These free chicken tractor plans by backyardchickens show you how to build a large, lightweight hen house tractor that provides everything your precious birds need.
There is a large enclosed and secure shelter across the back of the house for the chickens to roost in and lay their eggs. The front of the structure is secured with chicken wire to keep the hens in and the predators out.
Although as we see in the picture the structure is large it's still lightweight enough to easily be moved by one person.Keep your hens safe and move them to fresh grass every morning inside this easy to build hen house tractor.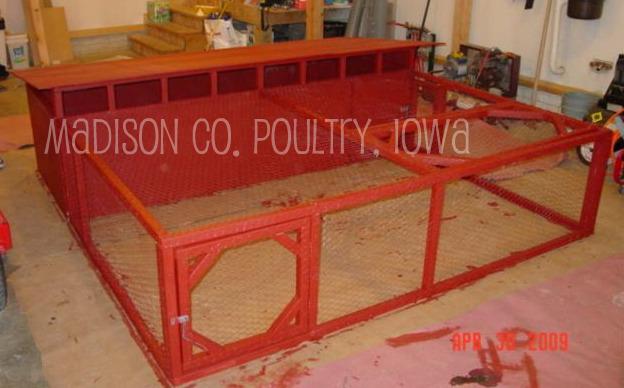 41- Cute Little Chicken Tractor Plans
This cute little coop is perfect for a small back yard and will comfortably house 2-4 laying hens. If you want fresh eggs for breakfast every morning but don't want a large hen house and lots of cleaning work, this cute little coop by backyardchickens is the answer.
Easy to build and easy to move, the structure has a low profile and is great for an urban backyard.
Accessing the hens and eggs is easy from the side door. It can be painted to fit in with any type of outdoor decor.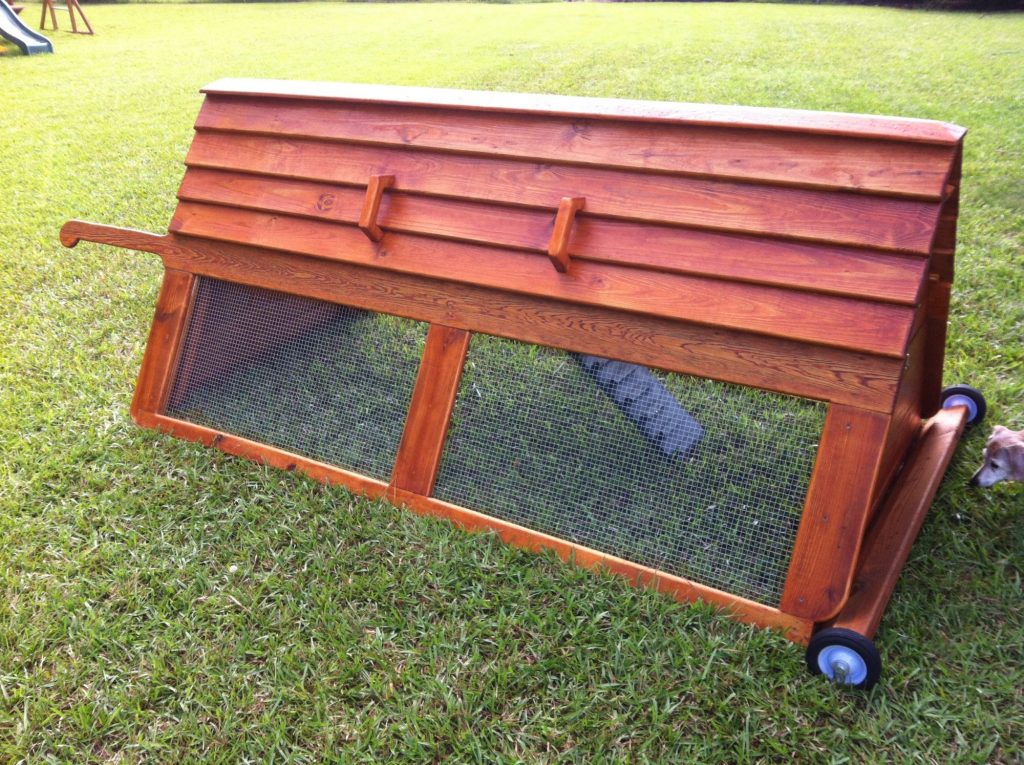 42- Simple Chicken Tractor Plans
Build this simple chicken tractor by simplyresourceful with leftover lumber and a little chicken wire in just one afternoon.
The simple design is easy and inexpensive to build and it will keep your precious bird secure in their run. Hens can free-range and eat organically within the safety of this simple chicken tractor. The hens can't escape and predators can't get in. This mobile coop is ideal for use with a stationary hen house and will allow the hens to get daily exercise and fresh grass to eat.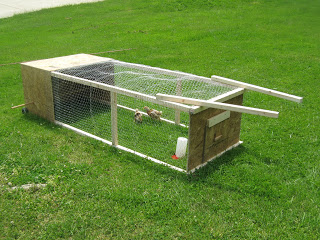 43- Cheap Chicken Tractor Plans
Raising meat chickens is easy and inexpensive with this cheap chicken tractor by grit Keep the hens secure, safe, well-fed, and allow them to leave behind free fertilizer with these lightweight, easy to build cheap chicken tractors.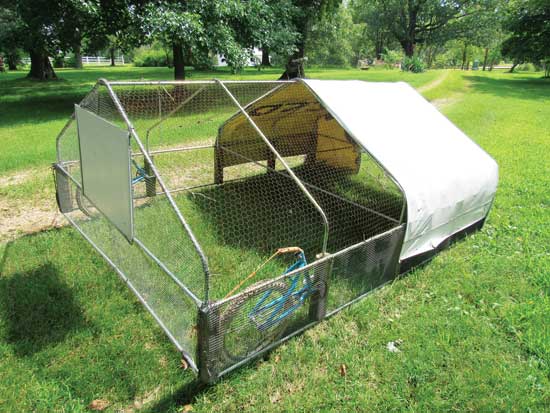 Final Thoughts
Remember, your chicken tractor plans may include the usual amenities, or it may be a very simple design. Regardless, you should still make sure it's safe and comfortable for your chickens.
With the wide selection of chicken tractor plans we have shared with you, you're sure to build a chicken tractor that works for you.