Raising your own organic chickens and eggs is a growing trend, and if you want to be a part of this trend you will need a homemade chicken coop. The main thing chickens require in order to provide us with eggs is a safe environment in which to live. A homemade chicken coop can provide laying hens with the needed safety plus give them access to organic insects living in the soil. Consider some of these chicken coop plans and build a safe haven for the fowls in your life. The plans are free, eggs will be organic and hens well protected.
You may also like to check out: A frame chicken coop plans, pallet chicken coop plans, chicken tractor plans, free chicken coop plans, chicken coops made from recycled materials and chicken run plans.
1- Modular-Style Homemade Chicken Coop
Build your modular-style homemade chicken coop with materials such as sheathing, batten and board and rafters. It should also include a dryer vent and exhaust fan, along with screen doors, for ventilation. The outdoor area, as well as the pop door and ramp, should be enclosed with chicken wire for protection. You can add the usual features to your coop, but another idea is to create a feeder and water dispenser out of tubes. A light bulb can be installed for warmth and light.

2- Tractor Chicken Coop
Your chicken coop doesn't have to be permanently placed in one spot, especially if you like to move things around on your property. Use a wooden frame and door, PVC arches and welded wire to build a lightweight diy chicken coop.
Medium weight tarp is placed over the back to create a fun wagon-style vibe while providing coverage from the weather. Add a splash of color to your coop with a fresh coat of paint. Your chickens have the comfort and security features of a stationary coop, but you can easily move it when you need to maintain the ground underneath.

3- Kitchen Cabinet Homemade Chicken Coop
Do you love repurposing items?, Consider turning an old kitchen cabinet into a homemade chicken coop. It's even better if you can get your hands on an outdated cabinet in a bright color. You're going to use it with supplies such as lumber, nails, screws, hardware and shingles. This coop features nesting boxes, roosting areas and a chicken run.
You also need a window for ventilation, as well as doors for your chickens, their eggs and cleaning purposes. Secure this stylish coop by investing in chicken wire for the bottom and elevating it off the ground.

4- Palace Homemade Chicken Coop
If you want to learn how to build a chicken coop that's spacious, consider the palace chicken coop. There's enough space for you to actually walk inside this homemade chicken coop. Once you step outside, the door is locked to keep your chickens safe from predators.
The features also include a coop door, chicken run, nesting box and ventilation holes. It's made of boards, siding, wire and poured concrete.

5- Converted Tool Shed Into Homemade Chicken Coop
Learn how to build a chicken coop from an old tool shed with these detailed plans. The plans will also instruct you on how to build the shed if you don't already have one to recycle.

6- Pallet Palace Homemade Chicken Coop
What could be more charming than a red and white pallet palace chicken coop? This homemade chicken coop is actually repurposed from an old shed, so your only construction is adding the standard oak pallets and building the interior.
The coop should include the usual necessities, such as a roost, nesting box, exit door, run and ventilation. You also need a front door for yourself, as the coop is big enough for you to walk inside.

7- Stylish and Functional Homemade Chicken Coop
When building a DIY chicken coop style is just as important as function With this project, you can start by building a white chicken coop, complete with accents such as white picture frames. You can even paint a "Home" sign on the front, along with a red door frame and matching shutters.
It's attached to an outdoor area enclosed with wire or mesh to keep your chickens safe when roaming. You can also close a curtain around the outdoor area by using thick branches as curtain rods. It includes the usual features, such as a ramp, nesting boxes, several doors and ventilation.

8- Use Hardware Cloth To Build A Homemade Chicken Coop
This chicken coop design uses more wire than wood and will provide safe housing for hens without obstructing your backyard view. This design is easy and inexpensive to build too.

9- Simple and Attractive Homemade Chicken Coop
Follow these step-by-step plans to build this simple and attractive homemade chicken coop. This coop design will fit in nicely with an urban or suburban landscape.

10- DIY Chicken Coop With Easy Access
If you want to keep several laying hens, you will need chicken house plans that will enable you to build a large coop with easy access to nests. These plans contains an easy-open side panel for collecting eggs, a large sheltered outdoor space for the chickens and door for your easy access to the pen and coop.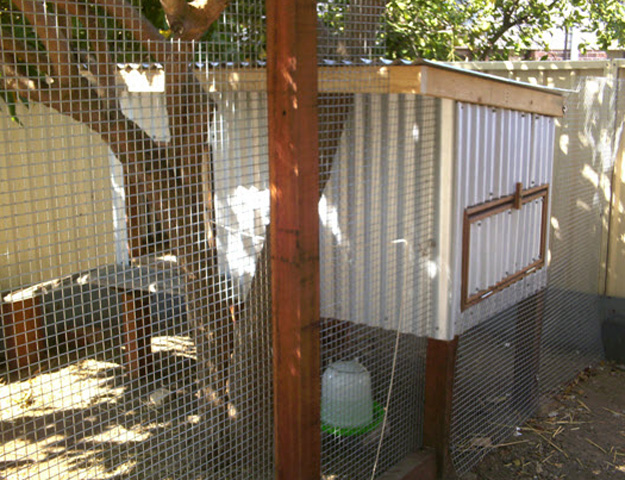 11- Cheap Homemade Chicken Coop
Less than $50 and 1 afternoon can provide you with adequate housing for a few egg-producing hens. Use these free plans to build yourself a cheap chicken coop.

12- Barn-Style Hen House
Use these detailed plans for building a DIY barn-style hen house that will not only keep your chickens safe, but also add beauty to your backyard.

13- Urban Homemade Chicken Coop
Safe, secure, attractive and small enough to fit into most urban backyards. This two-story design allows chickens to roam on the enclosed bottom area during the day, and retreat to the warmth and safety of the enclosed upper level at night. You may also like to see inspiring urban chicken coop designs.

14- Simple DIY Coop Design
This qualifies as a DIY design and build even though it uses pre-built items. A heavy-duty plastic storage shed, 5-gallon buckets and cattle fencing are fitted together in such a way to provide safe housing and outdoor space for backyard chickens. Simple and inexpensive to build, yet it will last for years.

15- Insulated Homemade Chicken Coop Plans
In areas where the winters are harsh, chicken coops must be insulated to protect the fowls. These plans show you how to build a chicken house and insulate it. If you can score some free wood or pallets to recycle, you can use these plans to create a pallet chicken coop and offset the cost of insulation.

16- Safe From Predators
This diy coop design uses buried border pavers under the perimeter of the coop to keep hens safe from predators. Large design allows for comfortable living space for several laying hens.

17- Log Cabin Homemade Chicken Coop
A log cabin chicken coop is a cute place to raise and protect your chickens. The logs are stacked and wrapped with chicken protection wire, and the coop is raised with a cinder block under each corner. The roof is made of secure plywood panels, floor is covered in linoleum and doors are made of leftover wood.
Your coop also includes a nesting box, small run, droppings board and roosts. The key is to create a comfortable but safe coop for your chickens.

18- Sunrise Homemade Chicken Coop
When you're learning how to build a chicken coop, you can never go wrong with the sunrise chicken coop. This DIY chicken coop is built under a deciduous tree, so your chickens are cool in the summer but get plenty of sun during the winter.
Inside the coop is vinyl flooring and nesting boxes on shelves, which are both stylish and easy to maintain. This homemade chicken coop also includes eaves with ventilation, removable roosts, droppings door, small run, secure window and main door.

19- Simple Homemade Chicken Coop
You can build this simple DIY chicken coop on a flat surface outside your barn or home. It doesn't require a lot of materials or time to build the coop, and the design makes it easy to open, clean and secure it. Your coop features heavy latches and gauge hinges to keep predators away from your chickens.
The benefits also include a sturdy structure, weather resistant materials and full floor for hiding. Keep in mind that this coop is designed for free-range chickens, but you can always build a separate chicken run.

20- Hoop Style Homemade Chicken Coop
Another idea is to build what's known as a hoop chicken coop, or a hoop coop. It's called a hoop coop because of the round, hoop-like design, which gives your chickens plenty of space to run around.
You're also going to add nesting boxes with ramps to your coop, as well as holes for ventilation. When you start building this chicken coop, it's important to follow all the instructions to ensure your chickens are safe and comfortable.

21- Homemade Chicken House Coop
This chicken house coop is a cute and cozy spot for your chickens, but it's also a safe place for them to live. The coop is raised off the ground, and it's complete with nesting boxes, roosts and a window for ventilation.
A chicken run is attached to the bottom of the coop, and the area is enclosed and secure with heavy-duty stainless steel mesh. You can paint the chicken coop and add curtains to create a stylish, pleasant place for your chickens.

22- DIY Chicken Coop
If you want to build your chicken coop from scratch, you may enjoy these chicken coop plans. You're going to build it with materials such as plywood, treated pine, chicken netting, wire mesh panel and screws.
The chicken coop should include a front door, ramp and nesting box, and you can add a garden to the exterior for decorative purposes. You also have the option of painting your chicken coop.

23- Cedar Wood Homemade Chicken Coop
Learning how to make a chicken coop with cedar wood is always a good choice. The cedar wood is durable in any type of weather, and it's resistant to pests, rotting and warping. This is another chicken coop that's big enough for you to walk in.
You want to make sure it has all the usual features that keep your chickens happy, such as a nesting box, roosting poles, chicken run and ventilation holes. You can also decorate your coop by framing parts of the exterior in grapevine.

24- Recycled Homemade Chicken Coop
If you're on a budget or living green, consider building a recycled chicken coop out of wood pallets. This repurposed chicken coop is complete with all the necessary features. Of course, you want to use green fencing around the sides and metal hardware wire on the bottom to secure your chickens.
You can also keep them safe by using cinder blocks to raise the coop off the ground. Another tip is to spray paint the coop in a camouflage color to throw off predators.

25- Crib Homemade Chicken Coop
A crib chicken coop is another way to give something you no longer use a new life. You're going to build your coop with chicken wire, wainscoting and trim, as well as a frame under the coop.
You also need to create a hole and build the chicken run, and don't forget to paint your coop in an appealing color scheme. When it's time to gather your eggs, you can use the drop side on the crib to access them.

26- Walk-In Homemade Chicken Coop
Here is another project that shows you how to build a walk-in chicken coop. It's made of wood with heavy-duty latches on the door and a window for ventilation, along with an outdoor area for your chickens to roam. You're going to use poultry wire to enclose and secure your chicken coop. The pane glass window and hardware cloth create a coop that's comfortable in both the winter and summer.

27- Swing Set Homemade Chicken Coop
Another idea is to build a swing set chicken coop. This chicken coop plan gives that old, outdated swing set a new life. You're going to remove the actual swings and use the structure as a frame.
Place iron sheets at one end, add a door to the other end and enclose the structure with chicken wire. You can place your feeding, nesting, dropping and egg collecting elements inside the coop.

28- Name Sign For Your Homemade Chicken Coop
If you have already built a homemade chicken coop, why not personalize it with the names of your chickens? Start by cutting the head board to introduce your family.
Your name boards are going to hang from the head board, with one board hanging from the previous board. You can use paint and stencil to add a name to each board. The name sign is going to hang on the exterior of the coop, so be sure to spray both sides with a water seal to add a bit of durability.

29- Homemade Chicken Coop
There's a variety of instructions for building your chicken coop from scratch. You can make your coop from almost anything, from a repurposed cabinet to wooden pallets. It should have doors for your chickens and collecting the eggs, and a door for yourself if it's a walk-in coop.
Your coop also needs holes for ventilation and chicken wire for security. The other features may include a ramp, nesting box and roosts. Paint it in a charming color scheme to add a little style to it, such as blue with a dark red roof.


31- Garage To Homemade Chicken Coop
If you have an old garage that's never used, consider tearing it down and using the materials for your DIY chicken coop. The tasks range from using pressure treated wood on cinder blocks to create the floor, to building the walls and screen windows, to installing the grambel roof.
You can even build the roosts out of old shelves and nesting boxes out of OSB. Paint the interior and exterior to freshen the vibe of your garage chicken coop.

32- Recycled Little Tykes Playhouse
Those adorable heavy-duty Little Tykes Playhouses are built to withstand the outside elements for years of fun for children. Children will outgrow these playhouses long before they wear them out, so give the playhouses a new life as a homemade chicken coop.

33- Red Barn Homemade Chicken Coop
There's nothing like a red barn chicken coop to give your property that farm-life vibe. A white trim and green raised roof only enhances this country look. Of course, your coop should have everything you need to keep your chickens comfortable.
Start with a spacious, easy-to-access nesting box, and be sure your coop has plenty of ventilation under the eaves. You can also include a prop to hold the roof open and a hook for your egg basket.

Wraping Up!
Most of the chicken coops require a lot of construction, but you can also build the coops out of old items. Every coop should have the features your chickens need, from a nesting box to chicken run. It should also keep your chickens safe from the weather and predators.
If you take your time, follow the instructions and put in the work, you're sure to build a homemade chicken coop that's stylish, convenient and functional.